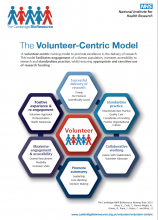 At the NIHR BioResource Centre Cambridge, our volunteers are our priority.
We are continually looking for ways to improve how we engage with volunteers and how we can make research more accessible within the wider community.
To support these aims, the Nursing Team has developed the Volunteer-Centric Model, to guide research nursing practice. This model defines the working practice of the Nursing Team and acts as a resource for research groups looking to replicate the success of the BioResource.
The Nursing Team received The 2015 Nursing Times Award in Clinical Research Nursing for their work in developing the Volunteer-Centric Model.
For our volunteers, the Volunteer-Centric Model means that we prioritise your needs when you take part in our studies. We want you to feel that we will go the extra mile to make it an easy and positive experience for you.
For researchers using the NIHR BioResource Centre Cambridge, our model facilitates a collaborative approach, with a focus on delivery of your study to time and with appropriate consideration of resources.
The Volunteer-Centric Model is available for download here
For more information, and practical tips on adopting a 'Volunteer-Centric' approach, please download our 'How-to' Guide.
For more information about the model, please contact the Nursing Team on 01223 761396.
More information on The 2015 Nursing Times Awards can be found on our news page.